is a 125cc single-cylinder 2 stroke engine by Vortex, with reed valve admission in the crankcase. It is mixturelubricated and liquid-cooled with integrated water pump.
It has got a digital ignition and an integrated electric starter, which the battery is dedicated to. It is provided with a balancer shaft, which reduces the vibrations.
A centrifugal dry clutch makes it possible to keep the engine on even when the kart is still.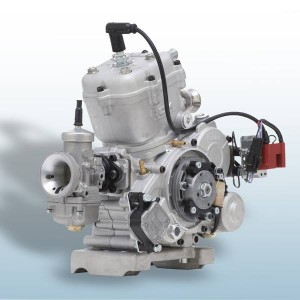 Bore 54mm
Stroke 54mm
Displacement 123.95 cm3
Capacity 22kw a 11500 rpm
Max torque 19.6 nm a 10000 rpm
Max rpm 13800 rpm
(electronically rev. Limited)
Carburetor dell'orto d.30
Or with diaphragm
Fuel pump dell'orto
Exhaust system exhaust with intake silencer
Drive centrifugal dry clutch